Menopause signals the end of a woman's reproductive ability. Ovulation and menstrual periods stop. Menopause is a normal part of a woman's life and does not always need to be treated. However, changes in hormone levels years before a woman's period stop can lead to bothersome symptoms that can be treated if needed.
HOW DO I KNOW IF I HAVE REACHED MENOPAUSE?
Menopause occurs when you have not had a menstrual period for 12 months. The average age for a woman in the United States to reach menopause is 51 years, but can occur anywhere between age 40-60. Menopause can also occur if a woman's ovaries are surgically removed.
Women often experience a transitional period, referred to as "menopausal transition," defined as the years before menopause when menstrual periods start to change (become more or less frequent, skipped periods), bleeding lasts fewer days, and symptoms of menopause may occur.
WHAT ARE SYMPTOMS OF MENOPAUSE?
As ovaries stop working, estrogen levels fall leading to menopause symptoms. Some women have few or none, while others may have symptoms that interfere with daily life. Symptoms begin before you stop having periods. Most common symptoms include:
Hot flashes- sudden feeling of heat that rushes to upper body and face lasting from a few seconds to several minutes
Night sweats
Sleep problems
Vaginal dryness
Depression
WHAT IS CONSIDERED ABNORMAL BLEEDING AROUND THE TIME OF MENOPAUSE?
Vaginal bleeding more often than every 3 weeks
Excessive, heavy menstrual bleeding
Spotting between periods
Vaginal bleeding after menopause
See your doctor if any of these symptoms occur.
Once you become menopausal (no periods for 12 months) you cannot get pregnant. However, if you are perimenopausal and still having periods and you are sexually active you may still get pregnant and should continue birth control to prevent unwanted pregnancy.
DOES MENOPAUSE CAUSE BONE LOSS?
At menopause, the rate of bone loss increases. This can lead to osteoporosis, which can increase a woman's risk of bone fracture.
DOES MENOPAUSE INCREASE THE RISK OF HEART ATTACK?
Estrogen is thought to be protective against heart attacks. After menopause, decreased levels of estrogen may increase the risk of heart attack and stroke due to loss of estrogen's protective effect. Speak with your doctor regarding your specific risk factors for heart attack.
Lower levels of estrogen may decrease sex drive or affect your ability to have an orgasm or it may take longer to have an orgasm. Vaginal dryness may also cause pain during intercourse.
WHAT CAN I DO TO TREAT SYMPTOMS OF MENOPAUSE?
Hot flashes/night sweats

: Dress in layers that you can take off if you get hot, keep thermostat down and avoid hot drinks like tea, or coffee. If you smoke, quit smoking. Place cold, wet wash cloth against neck when getting a hot flash.

Vaginal dryness:

Use lubricants before sex or vaginal moisturizer.

Sleep problems:

Try to go to sleep and get up at same time everyday. Avoid caffeine in the afternoon and evening and don't drink excessive alcohol.
Depression:

Stay active, exercise, seek social support.

Medication options:

Hormone replacement therapy and non-hormonal treatments are available for menopause symptoms. For women with a uterus (who have not had hysterectomy), estrogen combined with progestin is recommended. Vaginal treatments are available for vaginal dryness. See your doctor for more information.
There are many option to help women cope with symptoms of menopause: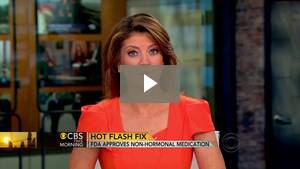 Dr. Shirazian discusses an option for treatment of menopause related hot flashes on CBS This Morning.
WHAT ARE THE RISKS AND BENEFITS OF HORMONAL THERAPY?
Benefits

: Estrogen treats symptoms of hot flashes and vaginal dryness. Estrogen also protects against bone loss.

Risks:

In women with a uterus, estrogen alone can increase the risk of endometrial cancer (cancer of the uterine lining). Taking progestin along with estrogen reduces this risk. Progestin may increase the risk of breast cancer.

There is also a potential increased risk of ovarian cancer. Speak in detail with your doctor if you would like to consider hormone therapy.